WE'RE ZERO-WASTE AND VERY DIFFERENT, HERE'S HOW:
Niche Snowboards is the world's first and only 100% environmentally-focused, zero-waste snowboard company. Through thoughtful design and conscious material selection, we are able to manufacture a superior product while lessening environmental impact, creating snowboards that are as beautiful to look at as they are to ride.
Niche created the world's first zero-waste, fully recyclable snowboards. Our unique technology enables our snowboards and manufacturing waste to be fully reclaimed, recycled, and upcycled into new products. Landfill waste is a massive global problem; our end goal is to ensure that nothing we produce ever ends up in a landfill.
Traditional resins can be extremely toxic to people and the environment. For our snowboards, we partnered with Entropy Resins to create our one-of-a-kind, Snappy Sap™ Bio-Resin. As opposed to traditional epoxies made primarily of petroleum-based materials, Snappy Sap™ Bio-Resin is composed of bio-renewable materials from the industrial waste streams of the paper pulp and bio-fuels industry.
These natural components help the environment by:
45% material sourced from sustainable, bio-renewable materials
Lower environmental impact from processing – reduction of greenhouse gas emissions, reduced water and energy consumption, reduced wastes
Eliminates harmful byproducts
Snowboard benefits:
Increased elasticity – provides more pop and spring to your board
Super high adhesion properties help keep your board from delaminating!
Toughness – combined these benefits make your board bomb proof
The forests that our wood cores come from are managed carefully to meet the social, economic, ecological, cultural and spiritual needs of current and future generations. Our wood cores also come from a sustainable source, which means they are replaced by new trees!
Here are some other requirements of our forest management:
No use of hazardous chemicals
No conversion of forests or any other natural habitat
Appropriate management and identification of areas that need special protection (ex. cultural or sacred sites, habitats of endangered animals or plants)
Respect of international workers rights and Human Rights, with particular attention to indigenous peoples
All applicable laws must be followed, with no tolerance for corrupt or questionable business practices
Niche utilizes basalt stringers instead of carbon fiber for added pop, stability, and crazy vibration dampening properties. Basalt is the product of volcanic activity. The fiberization process is more environmentally safe than that of glass or carbon fiber; the greenhouse gases that might otherwise be released during fiber processing were released eons ago during the magma eruption. Basalt is also 100% inert, which means it has no toxic reaction with air or water, and is noncombustible. And basalt is much easier to recycle than glass.
Our Magma Fiber shows 15-20% higher tensile strength than regular fiberglass. This means better impact absorption, strength, and elasticity.
Because basalt has a greater strength to weight ratio, less is needed to produce a snowboard. And less material means a lighter board!
We digitally print our topsheets using water-based inks that use up to 90% less solvents than traditional inks, and don't use any lacquer, giving our boards a beautiful matte finish. This is one of the first things you'll probably notice when you pick up a Niche snowboard. Most snowboard makers cover their topsheets in a thick, toxic lacquer to add shine. This is not only toxic to the environment; it's unhealthy for people working in the factory. We use a lacquer-free topsheet material, which makes our boards slightly lighter than other snowboards. It also gives our boards a matte finish with a truly unique aesthetic, and an organic feel. We digitally print directly onto the topsheet, cutting up to 60% of the material and 75% of the energy wasted during alternative printing processes.
Niche uses non-toxic, solvent-free, uv-based inks for printing graphics on all snowboard production.
Niche uses recycled materials in many components of our snowboard design and production. Such components used in our boards include:
Recycled Base Material
Recycled Steel Edges
Recycled ABS Sidewalls
Alternate color schemes are used to avoid extra plastic base material waste during production.
We use sustainable materials in every product we produce. All materials are sourced as locally as possible, in the closest proximity to the factory that we are able, using responsible supply chains with careful attention paid to the entire product life cycle.
Our use of alternative construction materials is what makes Niche unique, and actually give our boards better vibration dampening, added elasticity, and more durability! Traditional snowboard manufacturing is toxic and we want to change that. From harmful resins to the use of trees from forests that aren't replanted, to the supply chains themselves, there are many facets of manufacturing that harm both the planet and the people who put those products together. We're certainly not perfect and there is always an unavoidable footprint when making any product. But we firmly believe that even small steps lead to big differences, and we continually seek out even better construction materials and techniques.
Niche is based out of Salt Lake City, Utah, and crafted in a small town in the Mediterranean where we source all raw materials as locally as possible. We love our community and actively participate in preserving it and our ecosystem.
When you purchase products from Niche your dollars directly contribute to reforesting the Earth, reinvesting in our small business, expanding more eco technologies, and supporting the small families who run this company.
We also donate every year to supporting diversity and inclusion in snow sports, programs that get children out on the hill, and donating products to shops that focus on increasing participation with BIPOC and LGBTQIA+ communities.
Niche uses non-toxic, solvent-free, uv-based inks for printing graphics on all snowboard production.
Alternate color schemes are used to avoid extra plastic base material waste during production.
Female Founded & Operated
ONE TREE IS PLANTED FOR EVERY PURCHASE.
We want to make it simple for anyone to help the environment by planting trees. Together we can restore forests, create habitat for biodiversity, and make a positive social impact around the world. We have partnered with One Tree Planted, a non-profit organization that plants trees where they are needed most. One Tree Planted has planted over 40 million trees in more than 47 countries across the globe since 2014. In 2021, they more than doubled their impact from 2020 – with 23.5 million trees!
Trees have tremendous environmental benefits beyond the fact that they remove CO2 from the environment and clean the air we breathe. Planting trees supports biodiversity. Planting trees provides jobs. Planting trees provides integral food and resources to both humans and animals. Climate change is a human rights issue. It's a social justice issue. And so, we have committed to plant a tree for every order purchased from our company.
For every purchase you make, we plant one tree in your name! So far we have planted over 1,000 trees.
Wanna know specifics?
RECYCLAMINE ®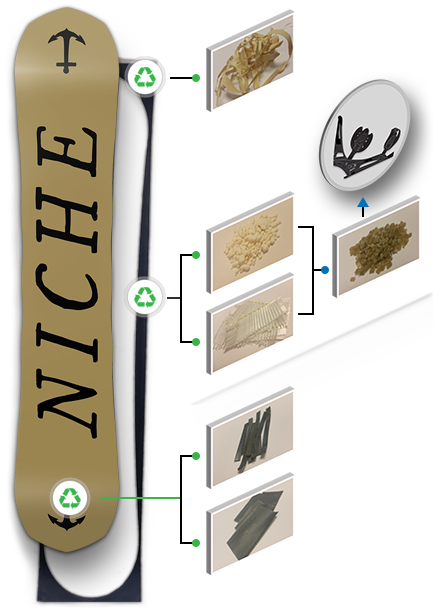 For a few years now, we've been working relentlessly on a big goal: make snowboard manufacturing a zero-waste process. Get manufacturing waste out of landfills. Get end-of-life snowboards out of landfills. Turn these things into new products by recycling them. Close the manufacturing loop and introduce a true cradle-to-cradle system that works.
We brought the first 100% fully recyclable snowboard manufacturing to market, allowing all manufacturing waste and the product itself to be recycled and repurposed for reuse at the end of its product life cycle. We have teamed up with Connora to apply their Recyclamine® technology into our existing bio-resins to make a groundbreaking shift in snowboard manufacturing, ensuring that nothing we produce ever ends up in a landfill.
How does it work? The resins within the snowboard can be dissolved and broken apart using a top-secret solution, enabling us to harvest all structural components and materials. These materials can then be recycled, repurposed or upcycled to create other new products like surfboard fins, binding components, or an unlimited array of possibilities!
By using the Recyclamine® system, it is possible to harvest all the raw materials from snowboard manufacturing to be repurposed or recycled.
Recyclamine® curing agents are the only epoxy hardeners available that enable full recyclability of thermosetting epoxy resins. This technology provides chemical resistance and mechanical properties similar to conventional, non-recyclable amine-cured epoxies. Flexibility, toughness, and low temperature properties are equal or superior to conventional epoxies.
Our goal was to create a snowboard that maximized performance while synergistically minimizing all impacts on the environment – a 100% recyclable board using environmentally conscious materials and manufacturing practices. Connora's Recyclamine® technology was the ideal drop-in resin system to facilitate this snowboard's manufacture.
Connora is pioneering zero-landfill manufacturing and closed-loop materials for hardgoods in the Action Sports Industry. With market leaders in snow sports and surfing, they are working collaboratively with brands and manufacturers to build recyclable composite products, and re-integrate their manufacturing waste back into valuable products.
Partners ↯