WE'RE ZERO-WASTE AND VERY DIFFERENT, HERE'S HOW:
Our use of alternative construction materials is what makes Niche unique, and these actually make our boards zero-waste and fully recyclable, have better vibration dampening, added elasticity, and more durable! Traditional snowboard manufacturing is pretty toxic and we want to change that by using eco-friendlier materials. From harmful resins to the use of trees from forests that aren't replanted, to the supply chains themselves, there are many facets of manufacturing that not only harm the planet, but also the people who put those products together. Through years of research and development, we've come up with a unique blend of alternative materials that are not only better for the earth but also improve performance! We're certainly not perfect and there is always an unavoidable footprint when making any product, but we firmly believe that even small steps lead to big differences, and we continually seek out more eco-friendly construction materials. Please read on to see how every snowboard we make is better for the earth.
SUSTAINABLE MATERIALS
We use sustainable materials in every product we produce. All materials are sourced as locally as possible, in the closest proximity to the factory that we are able, using responsible supply chains with careful attention paid to the entire product life cycle.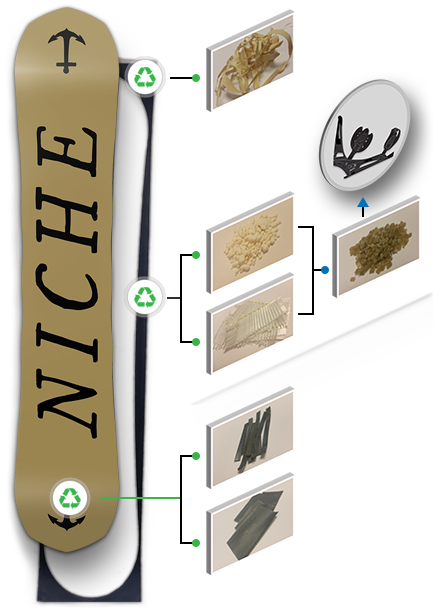 For a few years now, we've been working relentlessly on a big goal: make snowboard manufacturing a zero-waste process. Get manufacturing waste out of landfills. Get end-of-life snowboards out of landfills. Turn these things into new products by recycling them. Close the manufacturing loop and introduce a true cradle-to-cradle system that works.
We brought the first 100% fully recyclable snowboard manufacturing to market, allowing all manufacturing waste and the product itself to be recycled and repurposed for reuse at the end of its product life cycle. We have teamed up with Connora to apply their Recyclamine® technology into our existing bio-resins to make a groundbreaking shift in snowboard manufacturing, ensuring that nothing we produce ever ends up in a landfill.
How does it work? The resins within the snowboard can be dissolved and broken apart using a top-secret solution, enabling us to harvest all structural components and materials. These materials can then be recycled, repurposed or upcycled to create other new products like surfboard fins, binding components, or an unlimited array of possibilities!
By using the Recyclamine® system, it is possible to harvest all the raw materials from snowboard manufacturing to be repurposed or recycled.
Recyclamine® curing agents are the only epoxy hardeners available that enable full recyclability of thermosetting epoxy resins. This technology provides chemical resistance and mechanical properties similar to conventional, non-recyclable amine-cured epoxies. Flexibility, toughness, and low temperature properties are equal or superior to conventional epoxies.
Our goal was to create a snowboard that maximized performance while synergistically minimizing all impacts on the environment – a 100% recyclable board using environmentally conscious materials and manufacturing practices. Connora's Recyclamine® technology was the ideal drop-in resin system to facilitate this snowboard's manufacture.
Connora is pioneering zero-landfill manufacturing and closed-loop materials for hardgoods in the Action Sports Industry. With market leaders in snow sports and surfing, they are working collaboratively with brands and manufacturers to build recyclable composite products, and re-integrate their manufacturing waste back into valuable products.